If you want to look fresh and easy, then in this you, of course, will help any white thing. The white color in the image highlights and especially transforms in cold and dull weather. Particularly impressive is a white down jacket, like me. Of course, in the bitter cold I can't wear it, but until minus 10 I look like a Snow Maiden in it - fresh and easy. However, with incompatible clothing, any image can instantly collapse. This article will discuss white jackets, or rather, how to choose the right white jacket for a spectacular look.
Seasonality
First of all, you need to figure out the conditions in which you will wear a kutka. For the cold, you need a down jacket, as the best material for filling a down jacket is considered to be a warm and light down. You can also pay attention to high-quality artificial insulation. Keep in mind that in the quality down jacket the down is evenly distributed, so you should carefully check the product for the presence of lumps.
For cool walks in spring and autumn,demi-season quilted jacketswill do. Well, and for not very cold weather, you can make a choice among a huge selection of demi-season clothing. It can be leather jackets, jackets, jacket jackets, etc., most importantly - wear comfort and satisfaction with appearance. When buying a jacket, check the quality of the product: paint, seams, the absence of protruding threads, strength. Carefully study the rules of operation and care of a particular product. They may differ significantly depending on the material of manufacture.
Jacket Material and Style
If you want tobuy a fashion jacketand look stylish in it, you should remember that the appearance first of all depends on the material of the product.
1. A heavy warm jacket will never look organically with a light chiffon dress, while a leather jacket will give your image a zest. Denim and velor models should be chosen based on the texture of the lower part of the image.So all the selected clothes will be in harmony with each other. For example, a denim jacket can be combined with jeans or air skirt.
2. If you want to buy a white down jacket, then everything is simple: it is easy to combine a down jacket with any clothing, be it pants, jeans or skirts. You can't easily come up to a white quilted jacket, usually it's made in a sporty style: you can't wear modern-style skirts or classics, since in general it will look at least ridiculous. To such a jacket, you can pick up jeans, from shoes - sneakers or shoes.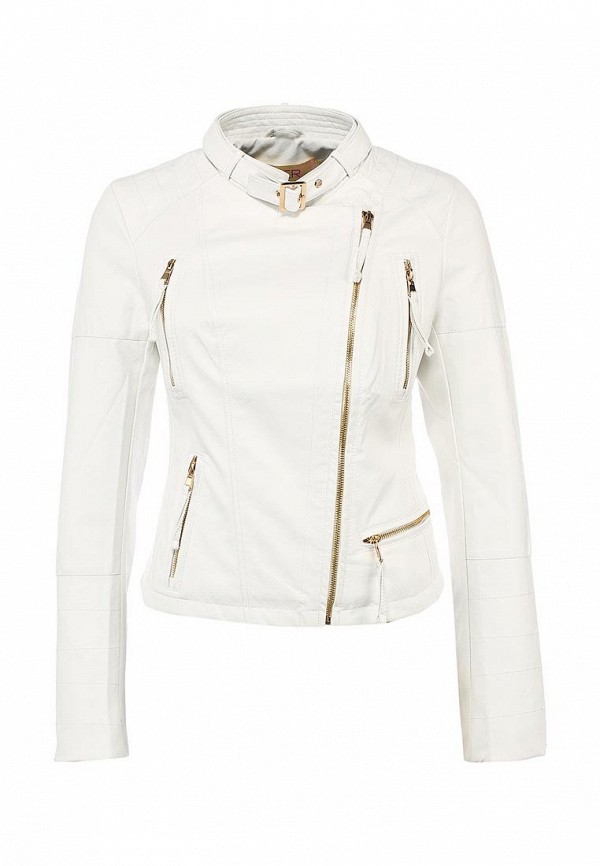 3. Leather white jackets are the most versatile, they can be worn with anything - such a jacket will accentuate any style. The white jacket combined with a light scarf, dress or any accessory in the shape of a bow will look romantic.
A spiked jacket will certainly set you apart from the crowd.
Well, if you prefer the style of "boho", then we advise you to get a white jacket with a fringe. This jacket goes well with long loose skirts and boots.In especially cool weather, a white leather jacket can be worn with a bulky scarf and a large bag - this look will look quite casual and elegant at the same time.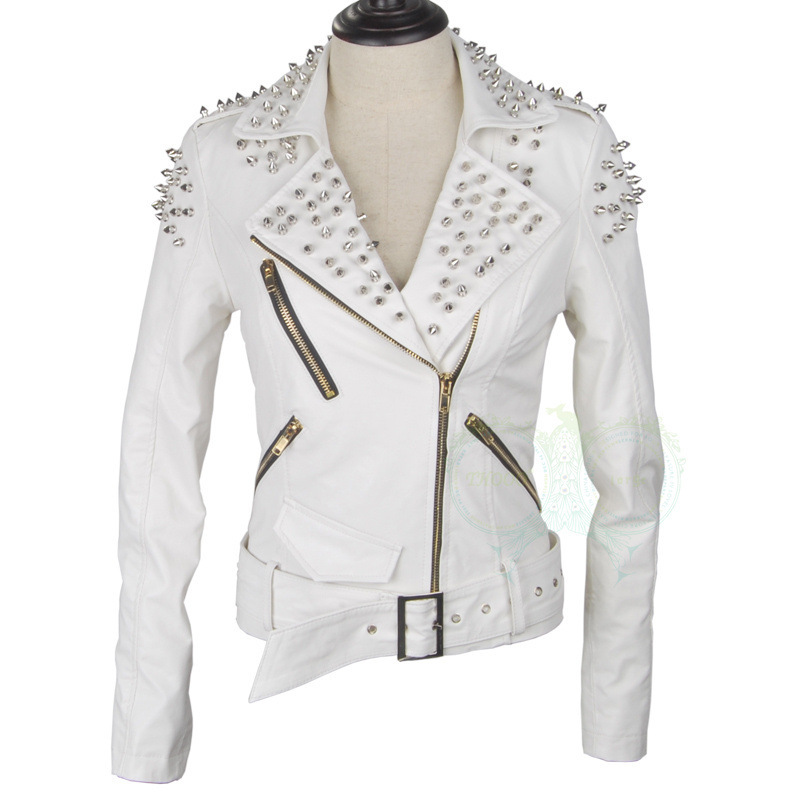 You can create an impressive image with a jacket-scythe, but first you need to find an approach to it. These jackets do not fit well with the "air" items of the wardrobe: light scarves, laces, skirts. A perfect jacket-kosuha jacket will create with jeans and leather clothes and accessories.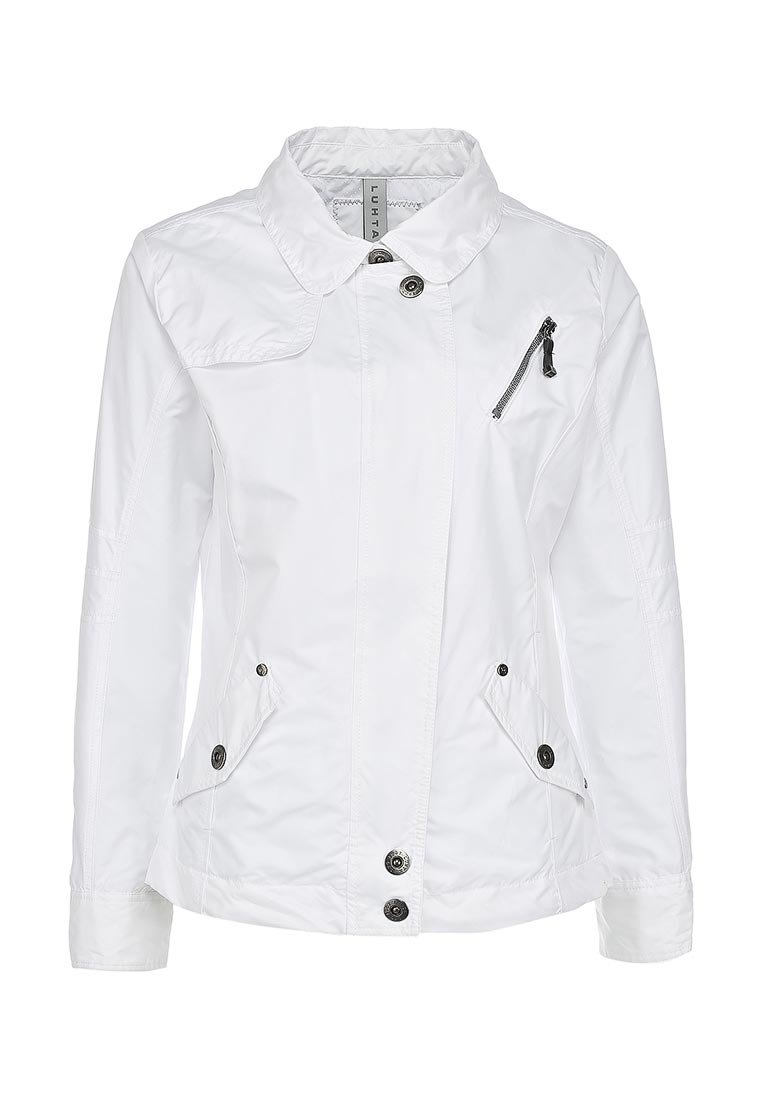 1. Light summer white jackets can be combined with anything, but a white jacket combined with bright floral patterns will look good.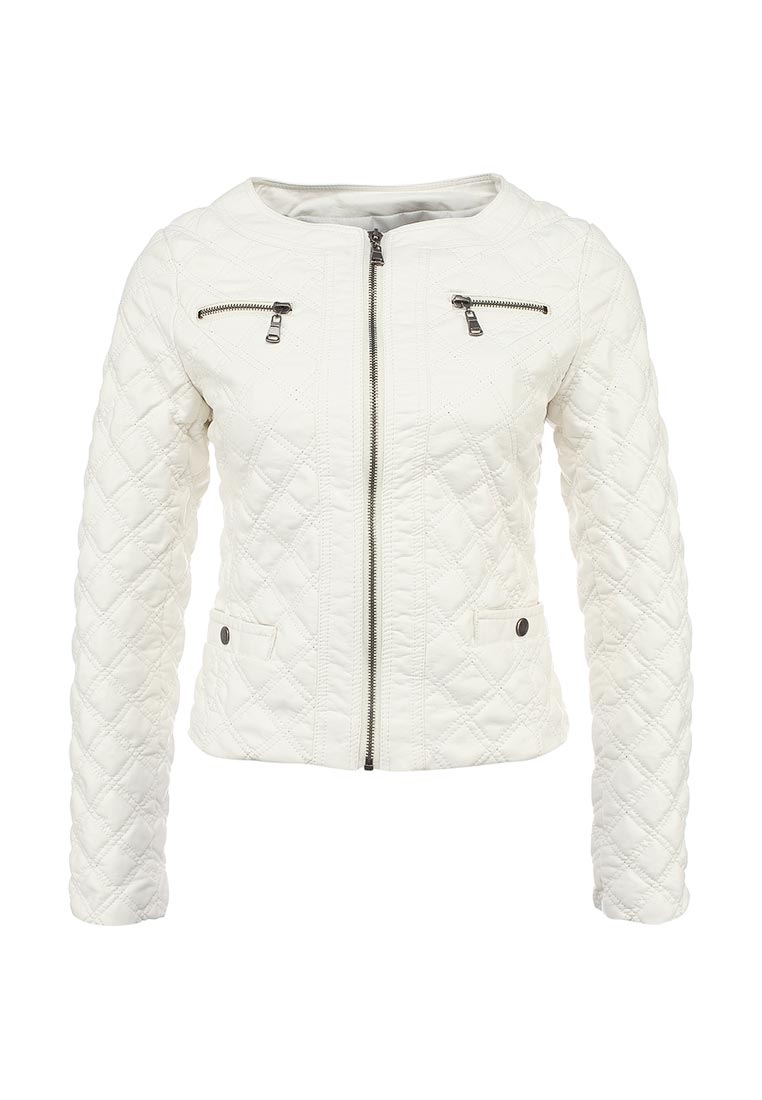 2. Short jacket jackets are combined well with classic trousers and skirts. From shoes choose boots with heels. Absolutely not fit shoes and accessories in a sporty style.
Matching colors
We have to admit that white is truly universal, since any color, from calm to bright and shouting, goes well with it.However, a combination of white jackets, white shoes and white accessories will look a bit tasteless. If you want to combine white shoes with your white jacket, then choose the rest of the clothes and accessories in other colors.
The most classic combination is white with black. This option will look presentable, formally. Also in a business-like look, the combination of white and gray. If you do not want such severity, then boldly combine your white jacket with clothes of yellow, green, violet, red colors. This image will look fresh and playful. For example, wear a white leather jacket skirt, shoes and jewelry in red - it is fashionable and incredibly impressive.
White allows you to combine many shades. However, keep in mind that a competent combination of colors in the image - no more than 3. A too large variety of colors will look too catchy and turn you into a parrot.
Despite the abundance of tips, with which you can wear a white jacket, there are several nuances in her choice, which should be taken into account. A white jacket is a special thing, giving a special gloss and elegance to the image.
Universal Tips
1. It is worth remembering that pure white color will not all. Each color should be chosen based on your appearance - the color of skin and hair. White snow, for example, is mostly dark-haired and fair-skinned ladies or women with slightly brown skin. He, with the wrong selection can highlight the imperfections of the skin, make your skin dull. However, there are many variations of white! Creamy white, milky, champagne, ivory - shades for every taste and color type.
2. White color is full. Alas, it is. To effectively look in a white jacket, you need to choose clothes and accessories to suit your appearance and shape.
3. White color is easy to wear. Carefully watch your white jacket, as it can quickly lose its presentation and fade.
4. White color is very easy to paint, so do not wear a jacket with things that tend to fade. To check the coloring of the thing, scratch a small area of ​​the thing with your fingernail. On the surface of the thing and on the finger, there should be no damage or traces.
That's all the information you need to know when choosing a white jacket. Remember that a white jacket is a symbol of elegance and style.Choose wisely and be irresistible!
Date: 09.10.2018, 09:52 / Views: 95551
Related News
30 picnic items for sure this summer
Christmas Star
How to kiss a girl
Verdict of guilty: heels in varicose veins are not to blame
Wedding car decorations
Salad to help keep diets