How to make a jeans pocket for cosmetics
You will need
- jeans pocket;
- dense linen fabric;
- a thin wooden stick;
- rope;
- silicone suction cup;
- glue gun.
Instruction
Carefully cut out a flap with a pocket from old jeans. Then bend the edges of the pattern, iron them, then glue it with a glue gun. The glue gun in this case is the most suitable option, since the sewing machine will not be able to sew such a layer of fabric.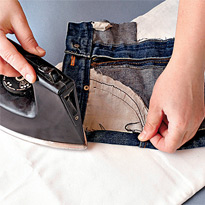 A large flap should be cut out of thick linen fabric. Then you need to tuck its edges: first side, then the bottom and only then the top edge. It must be bent in the opposite direction to form something like a tunnel. After bending, iron the obtained cuffs. Next, they need to glue with a glue gun.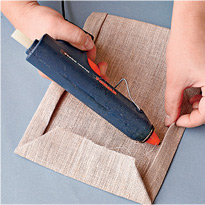 The resulting blanks must be glued together so that the denim pocket is on top of the flax shred. Thus, a small frame around the denim pocket was obtained.At this stage of the work, you can decorate the product with a flat toy.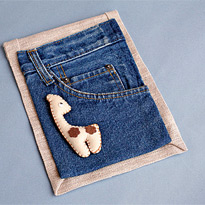 In the tunnel formed after gluing the cuffs, you need to push a wooden stick.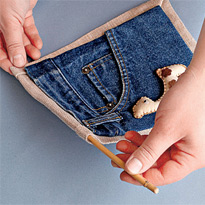 Cut a piece of the desired length from the rope, then tie it to a wooden stick on both sides with knots. Then in the middle of the rope it is necessary to fix the silicone sucker-suspension. Denim Makeup Pocket Ready!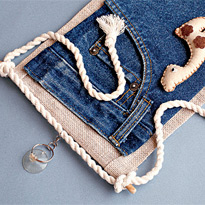 Date: 09.10.2018, 09:38 / Views: 44181
Related News
Wooden tantто
Lace Ball (lampshade)
Knife credit card
ELECTRONIC PATTERN
Christmas tree
Photo frame made of paper Origami do-it-yourself gift
Making the switch lights
Cover for knife from birch bark